Easy start-up and
fully automated process
A hospital or cardiology department wants to dedicate as much of available working time as possible to the patient. Any measure that reduces the time for preparatory work and post-processing is desirable.
The focus in the development of the WCD2-c was therefore on simple and quick operation and a fully automatic cleaning and disinfection process. The WCD2-c is installed on the hypothermia device in just a few steps and while the fully automatic process is running, the staff can use the time for other important work.
When used regularly, the WCD2-c ensures long-lasting drinking water quality for heating and cooling water. Therefore, a process can be stopped at any time if a medical emergency requires the immediate use of the hypothermia device.
Before initial use, the hypothermia device must be filled with WCD2 water. Once the hose connections between the WCD2-c and the hypothermia device have been made, the water cycles of the hypothermia device can be activated and the start button on the WCD2-c display can be pressed. The cleaning and disinfection process started in this way is now fully automatic and does not require any support from staff. The WCD2-c then signals the end of the process. Now all you have to do is detach the hoses and the hypothermia device is ready for use.
Product optimisation and additional features
The WCD2-c is designed so that the cleaning and disinfection process of the heating and cooling water of hypothermia devices can be carried out easily, quickly and, above all, more safely by the perfusionist.
In addition, when developing the WCD2-c, emphasis was placed on features that not only optimize the cleaning and disinfection process, but also offer other practical advantages.

The WCD2-c's standard program takes just under 10 minutes. After this program, the heating and cooling water is cleaned and disinfected.
Additionally, the user can run an intensive programme (power+), which should be used when the unit is put into operation for the first time or during longer periods of downtime, e.g. weekends.
The different spatial conditions on site also require corresponding technical solutions.
The WCD2-c can be adapted to both short and long tubes if the hypothermia device is spatially separated from the operating area. The cleaning and disinfection performance is also possible with long hoses.

Precise recording of the cleaning and disinfection processes is mandatory for cardiotechnicians in order to provide evidence of regular water cleaning and disinfection.
All processes carried out with the WCD2-c are automatically saved and can be exported into a log.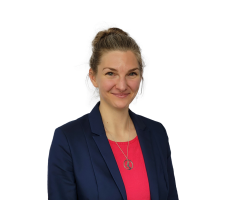 Manuela Kuss
Sales partner