Best possible protection
of patients and staff
WCD2-c stands for Water Cleaning & Disinfection Device and was developed for cleaning and disinfecting the heating and cooling water of heater-cooler units (hypothermal devices) .
Heating and cooling water from hypothermia devices that are contaminated with bacteria (germs) pose a danger when used in cardiac surgery. For example, when the water hoses are connected and disconnected, water can leak and bacteria can be spread. This increases the risk of infection during heart surgery, especially for patients.
The WCD2-c revolutionizes product safety for patients and staff and is a highly efficient, sustainable alternative to ensure the required drinking water quality of the heating / cooling water.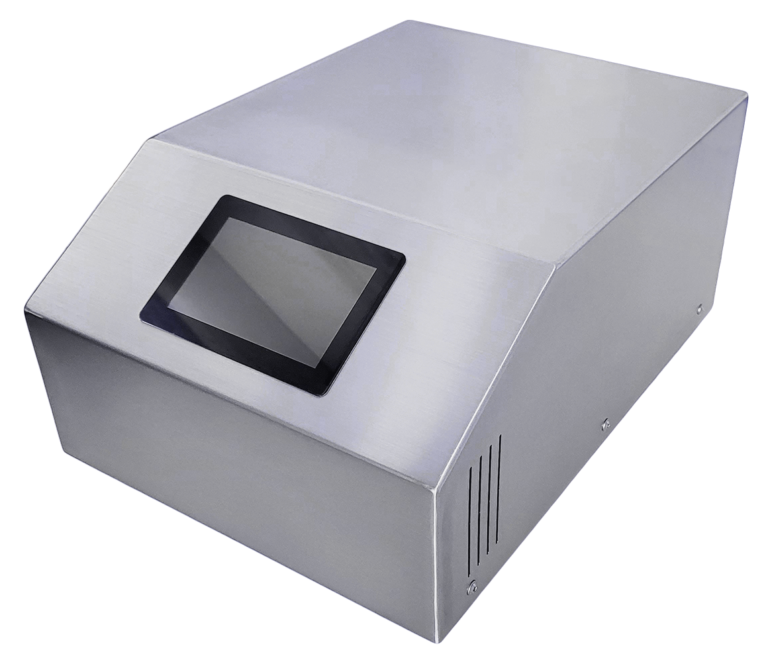 Killing bacteria in the heating and cooling water.
No germ formation in the heating and cooling water.

Reduction of organics in the heating and cooling water.
Heating and cooling water is of drinking water quality.

No use of
dangerous
chemicals.
No special requirements towards staff protection.

Fully
automated
process.
Cleaning/disinfection
is completed in just 10 minutes.

Simple
and quick
start-up.
Disinfection
process is logged
automatically.

Maintenance only
necessary/recommended once a year.
Ongoing operating costs are
negligible.
Heating/cooling water contaminated with bacteria presents risks at hospitals
Hypothermia devices are used in cardiac surgery to regulate blood temperature during surgery or to warm/cool a patient's entire body.
The risk of infection posed by bacteria-contaminated heating and cooling water in hypothermia devices is not insignificant. It becomes particularly dangerous if this water leaks in a sensitive area (e.g. operating room). Bacteria-contaminated aerosols can pose a high health risk for patients.
Risk of infection for staff
In addition to the patients, the staff is also exposed to a danger that should not be underestimated from the heating and cooling water contaminated with bacteria.
The cleaning and disinfection of hypothermia devices is usually carried out by perfusion technicians. These inevitably come into contact with contaminated heating and cooling water and are therefore always exposed to the risk of illness.
The WCD2-c ensures that the heating and cooling water is of drinking water quality when used regularly. Installation, operation and uninstallation are easy to perform. Wearing protective equipment such as gloves, masks, protective suits, etc. is not necessary.
Quality that creates safety
The WCD2-c not only increases safety for staff, but also makes everyday work easier thanks to its convenient use. The WCD2-c is therefore a sustainable and safe method for water purification/disinfection without chemicals.
Confirmed disinfecting effect
Scientific studies show: The required disinfection performance is clearly achieved with the built-in pro aqua diamond electrode. 
From the problem to the unique solution
Inquiry from Juvatec Company
"Is there a sustainable, permanent and efficient way to prevent the contamination of process water with the diamond electrode and associated technology from pro aqua?"
First screening tests
Tests with germ-contaminated water from a hypothermia device are successfully carried out. The number of germs is drastically reduced after just a few minutes.
Disinfection performance is proven
The Institute for Hygiene at MED UNI Graz (AUT) demonstrates the disinfection performance using selected bacteria and confirms the effect of pro aqua technology.
Completion of the test phase
The series of tests on the hypothermia device is completed positively after a 4-month test phase.The number of germs in the water is successfully reduced.
External tests under real conditions
The practical application takes place in another university clinic. The system is operated by the cardiotechnicians on site followed by positive feedback.
Scientific research
According to studies, the Institute for Hygiene at MED UNI Graz confirms sustainable and permanent water disinfection using the WCD2.
First model completed
After the final touches in terms of user-friendliness, the model stands for sustainable and long-lasting cleaning and disinfection of the hypo-process water.
WCD2 has proven itself in practice
The effective, safe and device-friendly process is confirmed by the long-term use in practice. The WCD2 is being used in more and more hospitals.
Solution to global challenges
The WCD2 is tested for a year at the Regensburg University Hospital. The results are impressive and are published in a scientific, peer-reviewed paper. The WCD2 has convinced the market.
Model WCD2-c is available
The process of the exclusive water purification/disinfection is completed. The new model WCD2-c is available on the market.
Find out more about the WCD2-c...