Permanently guaranteed safety
for patients and staff
The WCD² (which stands for Water Circuit Disinfection Device) prevents the contamination of heating and cooling water and the formation of biofilms in hypothermia units.
Biofilms forming on water-bearing surfaces and the associated permanent germ contamination of the heating and cooling water present dangers when using hypothermia equipment in the field of cardiac surgery. When connecting and disconnecting the water hoses, for instance, water can escape and bacteria can be discharged. This increases the risk of infection during heart surgery, especially for patients.
The WCD² revolutionises product safety for patients and staff and is a highly efficient, sustainable alternative to the prescribed disinfection procedures, which are usually time-consuming and dangerous.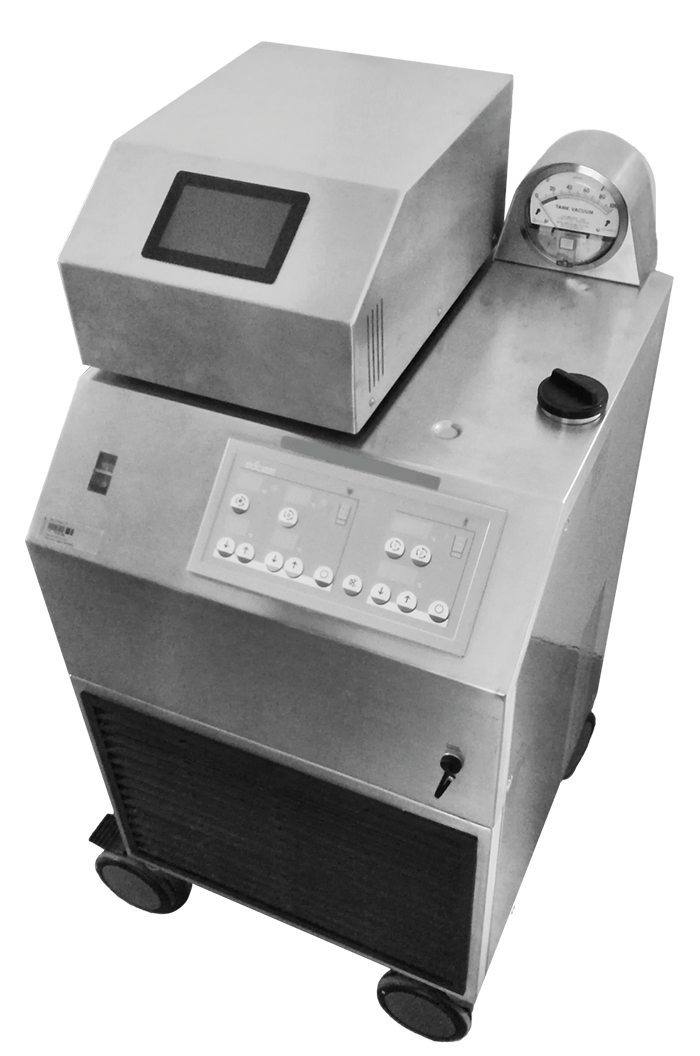 No germ formation
in heating and cooling water
No biofilm formation
on water-bearing surfaces
Heating and cooling water always has drinking water quality

No use of
harmful chemicals
No odour formation from disinfection emissions
No special
requirements
towards staff protection

Disinfection process
is fully
automated
Disinfection process
takes a mere 10 minutes
Water only needs to be changed quarterly

Simple and
quick start-up
Process is not started/aborted in case of misapplication
Disinfection process is logged automatically

Maintenance only
once a year
Negligible ongoing running costs
Minimal material
wear from
disinfection
Heating/cooling water contaminated with bacteria presents risks at hospitals
Hypothermia units are used in medicine to regulate blood temperature during an operation or to warm up/cool down the entire body of a patient.
The risk of infection from germ-contaminated heating and cooling water in hypothermia units is not insignificant. It is particularly dangerous if these waters escape in a sensitive area, e.g. an operating theatre. Bacteria-contaminated aerosols can form, posing a high health risk for patients.
Risk of infection for staff
In addition to the patients, staff is also exposed to a risk that should not be underestimated due to heating/cooling water contaminated with bacteria.
The cleaning and disinfection of hypothermia equipment is usually carried out by a perfusionist. Inevitably, they come into contact with the contaminated water and are therefore always at risk of becoming ill.
The manufacturers of hypothermia units specify cleaning and disinfection processes that often take hours. What's particularly harmful to staff, however, is the fact that dangerous chemicals are used for this purpose. These require them to wear suitable protective equipment and the cleaning and disinfection solutions must be disposed of separately as hazardous waste.
Quality that creates safety
The WCD² not only increases safety for staff, but also makes everyday work easier by saving massive amounts of time. The WCD² is thus a sustainable and safe alternative to disinfection using hazardous chemicals.
Confirmed disinfecting effect
Scientific studies show: The WCD², with its built-in pro aqua diamond electrode, generates a proven disinfecting effect.
Read more about the WCD²...