Because every water drop counts.
The smallest cell in the pro aqua technology is used in freshwater aquariums. The Aquarium-Fresher offers the best remedy against algae in your aquarium if you are looking for a sustainable, long-lasting and chemical-free alternative.
Sooner or later, any aquarium owner will face problems with algae in their aquarium. An aquarium is a complex ecosystem and not always easy to deal with. In order to remove impurities, various additives are used in aquarium cleaning – from home remedies to chemicals.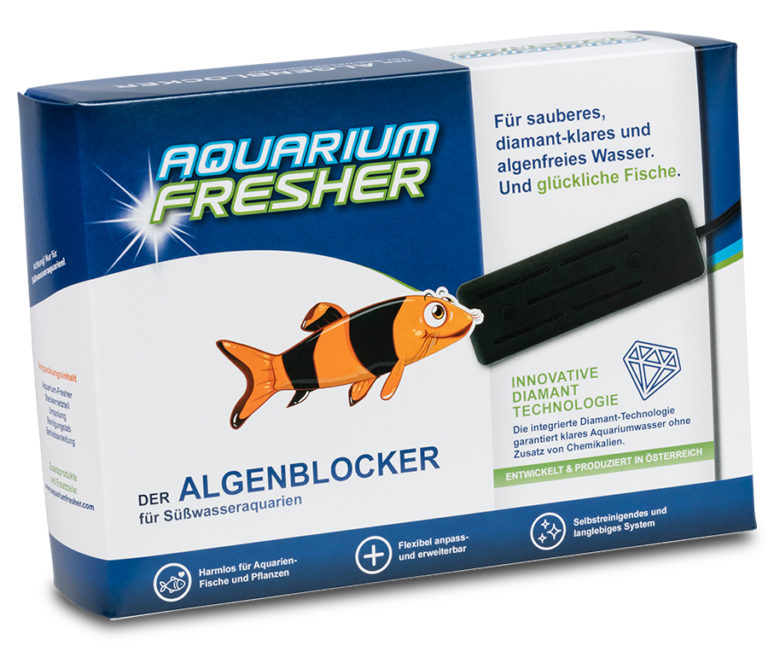 The use of the boron-doped diamond electrode ensures clean, clear water in your aquarium because the Aquarium-Fresher not only functions as an algae blocker, but also enriches the water with oxygen, which is then available to the fish in its purest form.

Sustainable
algae blocker
Stops algae growth and enriches the water with oxygen.

Eliminates time-consuming cleaning tasks

Water hardly ever needs changing, as clean and clear water is always available.
No addition
of chemicals

No need to add algaecides or other harmful additives.

Particularly
long-lasting

The patented diamond electrode is designed for years of continuous operation.
Big change on a small scale
Simple principle.
Safe effect.
Diamond-clear water.
The built-in diamond electrode releases the oxygen bound in the water molecule (H2O). This atomic oxygen (O) attaches itself to organic matter such as algae, suspended matter or food remains and breaks them down. This makes the water clean and clear and permanently inhibits the growth of algae. In addition, molecular oxygen (O2) is formed, which is then available to the fish in its purest form.
The result: Clean water, an algae-free tank – and happy fish!
The Aquarium-Fresher removes the nutrient basis of algae, sustainably inhibits growth and breaks down dirt. A gentle and long-lasting alternative to chemical additives and various cleaning devices.
Flexibly adaptable and expandable
The Aquarium-Fresher is available in two standard sizes. Each system can be easily extended with an additional electrode. This way, aquariums of up to 1,000 l of volume can be served.