Diamond-clear
rainwater for the home
pro aqua's boron-doped diamond electrode is also used in rainwater treatment: The Rain-Fresher with built-in diamond electrode is used in rain barrels and cisterns and ensures that the collected water remains clean and no foul odours are generated.
The use of rainwater in the garden and the house for e.g. washing machines and toilet facilities but also the collection of rainwater in regions where water is scarce is of great importance.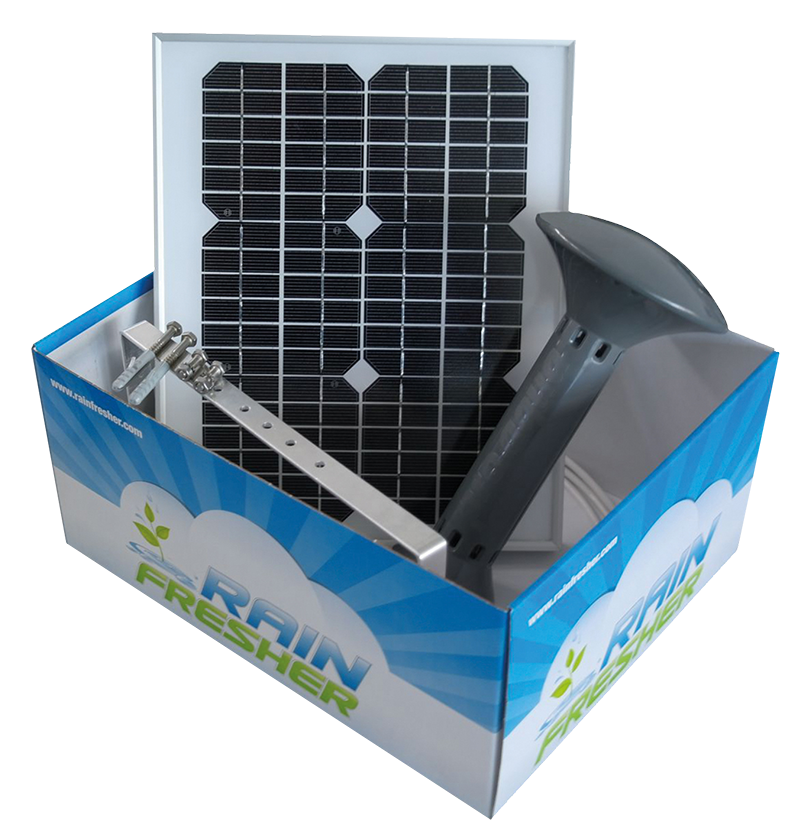 Permanently fresh rainwater
If rainwater is left standing in a barrel for a long time and is not circulated with fresh rainwater, e.g. during a dry spell, it collapses and bad odours develop. The Rain-Fresher offers the solution: The diamond technology keeps the rainwater in the barrel or cistern fresh. This makes the Rain-Fresher a small and simple rainwater treatment system for the home.

Fast
start-up
Simple installation,
no device maintenance
required

Permanently great
water quality
Breaks down organic matter and pollutants, enriching the water with oxygen.
No addition
of chemicals
No need
to add dangerous or harmful
additives.

Particularly
long-lasting
The patented diamond electrode is designed for years of continuous operation.
Long-lasting
water quality.
Fast
start-up.

Long-lasting
water quality.
The built-in diamond electrode releases the oxygen bound in the water molecule (H2O). This atomic oxygen (O) attaches itself to organic matter such as algae, suspended matter or contaminants and breaks them down. This makes the water clean and clear and permanently inhibits the growth of algae. In addition, molecular oxygen (O2) is formed and enriches the water.
This prevents the rainwater from collapsing and generating bad odours.
Even during longer periods without precipitation, the water can be stored in a fresh and pure state for further use.
Since rainwater hardly changes the acidity of the soil, it is excellent for gardening and planting.
When storing water in barrels, the Rain-Fresher helps to ensure its long-term quality.
Cistern &
domestic water storage
The use of rainwater in the household not only offers financial advantages to homeowners. Compared to drinking water from the tap, rainwater has the great advantage that it is free of lime and therefore does not cause deposits when used in washing machines and toilets.
With the Rain-Fresher, it was possible to develop a product that can be used easily, quickly and without great effort in the household.
The Rain-Fresher is available with a solar power unit or mains adapter and is designed for a water volume of up to 5,000 litres, depending on the version.