Because every water drop counts.
From BDD Cell to water treatment
BDD Cells are available in different sizes and versions. Depending on the customer's wishes or application, BDD Cells often differ significantly from one another.
Technologically, however, all BDD Cells can be reduced to the fact that they have an inlet and outlet so that the treated medium can be fed through them, and that they are equipped with boron-doped diamond electrodes.
To generate the required active substances (oxidants), the diamond electrodes installed in the cell must be supplied with electrical power (DC voltage). For this purpose, there are two electrical connections for the positive and negative poles.
If the medium flows through the BDD Cell and the electrodes in the cell are supplied with power and if the medium is conductive, electrolysis takes place and and oxidants are produced.
The basic principle of the BDD Cell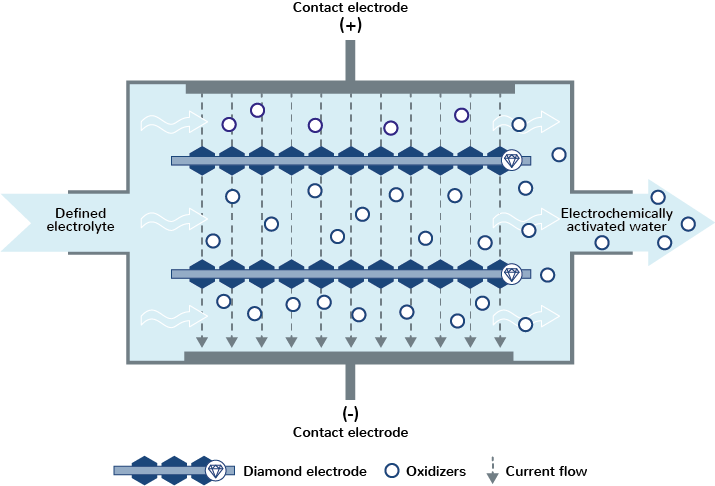 Your requirements – our mission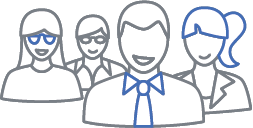 THE essential step in the process is determining which BDD cell is the right one for the customer's specific application. Our experts work with you to define the BDD cell that best suits your application.
The medium to be treated and its contents as well as the desired treatment objective, e.g. degradation of organic matter or killing of bacteria, determine the electrode area, current density, flow rate, electrode spacing, etc. and ultimately the size of the BDD Cell.

Our know-how for your success
pro aqua has a great deal of application experience, which we are happy to share with our customers in order to determine the most suitable BDD Cell. By filling out our BDD Cell form you enable us to come up with an initial solution proposal for you.
Simple installation, quick commissioning
Mount the BDD Cell to the specified/existing brackets/boreholes.
Connect the pipes that convey the medium to be treated to the inlet and outlet of the cell.
Connect the electrical connections of the BDD Cell to a suitable DC voltage source.
< 500 mA/cm² (recommended)
< 50 µm (filtration recommended)
filter, as abrasive effects can destroy the electrodes
avoid, as scaling reduces performance
direct current with constant current (recommended)
< 6 bar (depends on cell type)
< 20,000 litres per hour (depends on cell type)