Because every water drop counts.
From tap water to disinfectant
Our EW Units have a modular design and basically work the same way, regardless of size and oxidant production requirements.
Connecting the EW Unit
The first step is to connect the EW Unit to a drinking water pipe and to the power mains. Mind that the drinking water is softened. If no softened water is available on site, a softening system must be connected upstream of the EW Unit.
Adjusting conductivity
The salt water tank is filled with the softened drinking water. The salt tablets in the salt water tank dissolve in the water and a saturated salt solution (brine) is formed. Once the brine has formed, the EW tank is filled with descaled drinking water. At the same time, brine is added from the salt water tank to the waste water tank in proportion to the quantity so that the desired conductivity of the water is achieved.
Activating the BDD cells
Once the EW tank is filled and the conductivity is adjusted, the BDD cells are supplied with DC voltage and the circulation pump is activated. The circulation pump conveys the water through the BDD cells and oxidants are produced. The water flowing out of the BDD cells is now enriched with oxidant and flows back into the EW tank.
Oxidant production
The water in the EW tank is now circulated through the cells until the desired concentration of oxidant, e.g. 3,000 mg/l, has been reached in the EW tank. Then the pump and BDD cells are deactivated and the electrochemically-activated water in the EW tank is available for the respective application.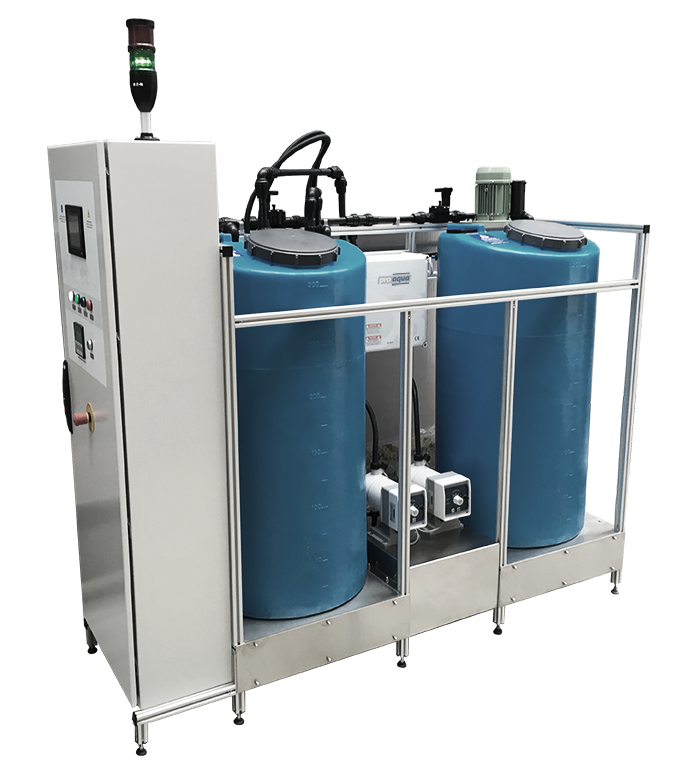 1 x 300 Litres tank for EW production
1 x 300 Litres salt water tank
2 x BDD cells type 42-2-3
Automatic and flexible mixing device (25-50 g/L) for brine in the salt water tank
Control cabinet, pumps and pipes are included in the scope of delivery
Production of oxidants up to 3,000 mg/L
Electrical connection: 230 VAC
Softener not included in the scope of delivery
1 x 3,000 Litres tank for EW production
1 x 3,000 Litres tank for EW storage
1 x 300 Litres salt water tank
2 x BDD cells type 42-2-3
Automatic and flexible mixing device (25-50 g/L) for brine in the salt water tank
Control cabinet, pumps and pipes are included in the scope of delivery
Production of oxidants up to 3,000 mg/L
Electrical connection: 400 VAC
Softener not included in the scope of delivery