One-time assembly work:
Installed and ready to use in
just 60-90 minutes

Always on demand and
ready for operation:
SC-Water is produced by pressing the button
Efficient use:
Purity and cleanliness in just one step

Minimal costs per litre:
Depending on the application, but generally only a few cents/litre
Improvement of productivity:
No need to unpack, store or mix chemicals
Minimal disposal costs:
No empty containers and no packaging material

Safe for your health and the environment:
Without aggressive chemicals or cleaning products
Safe for operators:
No mixing of dangerous chemicals
Safe for customers:
No dangerous residues on surfaces
Strong performance for the best success
Decalcified tap water is enriched with SC-Salt and passed through the electrolytic cell built into the SurfaceCleaner-100. The SC-Water – a highly effective cleaning solution with a pH value of 8.5 – is produced in the electrolysis cell.
The boron-doped diamond electrodes are subjected to DC voltage and are thus electrochemically activated. This not only results in the pH value of 8.5 required for cleaning, but also the cleaning-supporting oxidizing agents (active chlorine from the salt and active oxygen from the water) are created.
The electrochemical method produces the highly efficient and strong SC-Water – just in time .
Electrolysis is carried out using boron-doped diamond electrodes. After more than 20 years of development and several patents, these are by far the best and the most effective electrodes on the market.
This means that you are in the best hands, which have been scientifically proven.
One solution for all surfaces
Glass I stainless steel I aluminium I PVC I wood I laminate plastic I natural stone I rubber I tiles and many more surfaces
Convincing technology:
Performance of SurfaceCleaner-100
PROVEN EFFECT CONFIRMED BY ATP-MEASURMENT!
An extensive comparison of SurfaceCleaner-100 to classically used cleaning products was conducted at an airport hotel with a capacity of 430 beds. The ATP-measurement method (a standard method to determine the degree of cleanliness of surfaces) was used to classify the effects.
The results are more than convincing: The SurfaceCleaner-100 performed significantly better in almost all measurements than the cleaning agent used by the hotel. The SurfaceCleaner-100 not only impresses with its ease of use, but also with its cleaning performance.
Results:
The cleaning performance in figures
Cleanliness on surfaces is measurable by using a luminometer. The result is represented in RLU-units. The higher the RLU value , the dirtier the surface.
ATP-measurement is best for comparison of different cleaning products. When comparing the RLU results, the effectiveness of cleaning is recognizable at a glance.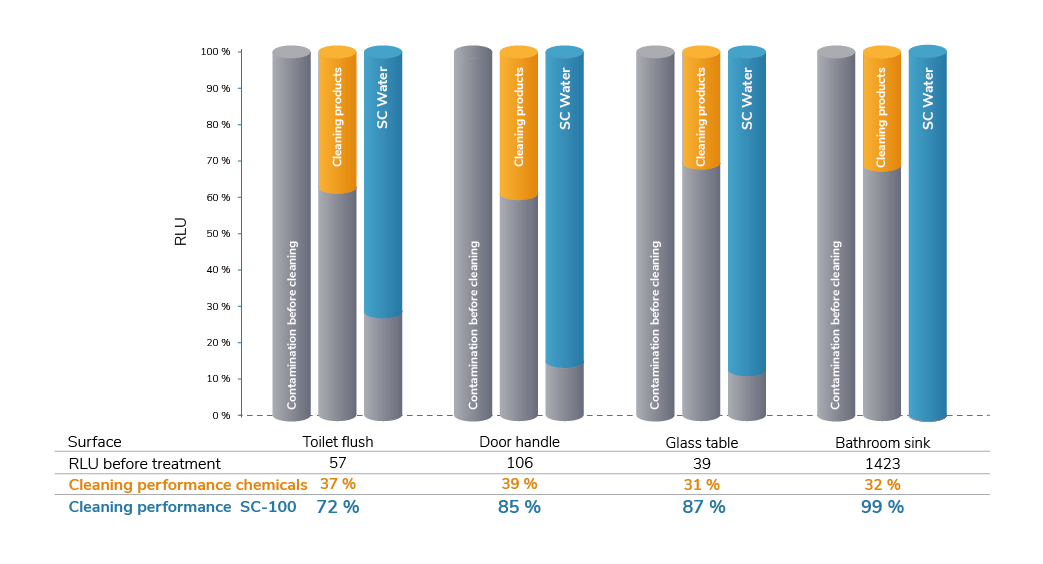 One solution - countless applications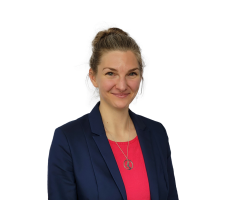 Manuela Kuss
Sales partner
Read more about the SC-100...